Love Knows No Borders – Video Extra
Video Feature:
Click Image To Play Video (3:50)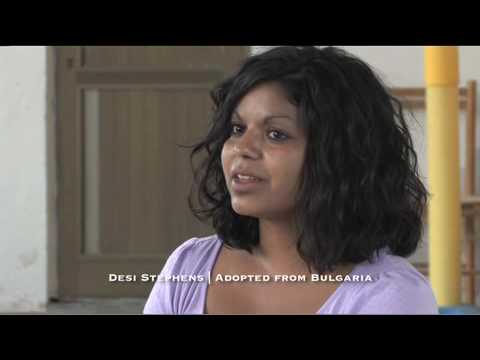 Alumna Shares Personal Story of International Adoption
Twice in my life I have flown to countries halfway around the world. The cultures have been foreign to me, the language, even the alphabet. But in both places I was given the most incredible children. My son Carter is from Bulgaria, and my daughter Jordan is from China.
International adoption had its difficulties, but I believe my children were always meant for my family, no matter where they were born. Eventually Carter and Jordan were the inspiration for the project that became like my third child, a documentary called Love Knows No Borders (LKNB).
In January 2008, Jordan had been home a year, and we had no plans for more children. But then, out of the blue, my adoption agency called. What I heard at the other end of the line would change my life, but not the way I'd expected. Two years before, in 2006, we gave up our plans to adopt a second child from Bulgaria. The government had essentially closed adoptions to Americans. It broke my heart, but I realized our daughter would be found somewhere else, and we laid the groundwork for China.
But now the agency was telling me the paperwork we'd had to abandon was still good, and Bulgaria was opening back up to international adoptions. Even though we had completed our second adoption in China, did we want a third child from Bulgaria? After we got over the shock, my husband and I joked it was the only way we could "accidentally get pregnant" through international adoption. But I knew his answer before we spoke; our family was complete with Carter and Jordan.
At the time I was sure the phone call was a sign that we should bring home a third child and that my husband would see that in time. But as our chaotic life continued with an 8 and 2-year-old, I knew it as well as he did, that for us, two was enough. So why had I gotten the call? I struggled with that for weeks.
It came to me all at once in the dawn hours of a Monday morning before the typical mayhem of my house began. I knew exactly what I had to do; I needed to tell this story. The story of the children left behind in the oversized orphanages of my son's birth country; the story that could turn into homecomings for these children. I was a television reporter, and this would be the story of my life.
The next eight months were the toughest of my career, but I didn't mind. For a project this important, there had to be some sweat. I raised $10,000 in two months, negotiated for a crew from my old TV station and got my contacts in Bulgaria. Finally it was a go.
Shooting the documentary was incredible. Our crew was given unprecedented access to the orphanages around the country. Our cameras went where no television camera had ever been, and I saw more than 1,000 children, newborn to 18 years old, during those 10 days. LKNB featured the changes in the Bulgarian systems that offer new hope for adoptions, and it examined how Bulgaria's systems have failed older children who will never be adopted.
When LKNB aired in December 2008, it accomplished exactly what I had hoped. Parents were moved to explore adoption, not just from Bulgaria, but other countries and even domestically. LKNB showcased the spirit of service, and how if people couldn't adopt, they were moved to volunteer and make a difference in some other way.
The journey is not over. Every day I am reminded of the amazing journey of international adoption when my kids wake up, and the chaos begins. And every day, I look for more ways to share the story.
–Mariah Gray Lange Kolpek '91