Coffee Break: Students Travel to Guatemala
Video Feature:
Click Image To Play Video (9:30)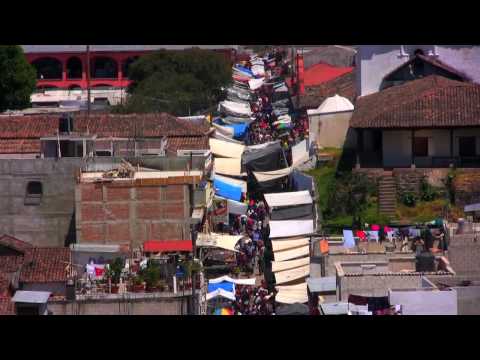 Video and Photos by Ross Ballinger '07
Story by Gabrielle Antoniadis

High in the mountains of Guatemala during the early evening hours, eight first-year students sit under the fading sun with two professors listening to the story of Rigoberto, an ex-guerilla-fighter-turned-organic-coffee-and-banana farmer. A short time later, the students gather under the stars in the Santa Anita Cooperative's coffee-drying patio after a home-cooked meal and cold showers to reflect on Rigoberto's words.
The experience proved to be just one of many perspective-changing ones the freshmen encountered during the optional travel component of their fall WittSem course, "Making Coffee: Culture, Capitalism and Consumption." After visiting coffee farms and plantations of every imaginable size and type, along with a diverse group of farmers, the students returned to campus with a deeper understanding of what they learned in the fall –  a simple cup of coffee is not so simple.
For these first-year students, the fact that Rigoberto had only three fingers was not the most compelling part of his story. Rather, it was his description of the struggles of being an organic farmer in the highlands.
"It is easy to go into the mountains and pick up a gun to fight oppression; but it takes courage to come down and make a life as a community," he said, moving many students to tears.
It was not the kind of experience a student could ever get from reading a book or even watching a film, and for Tammy Proctor, professor of history, and Nancy McHugh, associate professor of philosophy, that was the point. After spending the fall semester teaching the history, politics, economics, culture and ethics of coffee production, Proctor and McHugh traveled with eight of the 37 students in the unique WittSem to Guatemala, so the students could experience firsthand much of what they had learned.
"The trip allowed the students to expand their understanding of the connection between the various parts of the global coffee cultures that we studied," Proctor says. "They were able to see those connections at work in a unique way."
Ellen Kortesoja '12 jumped at the chance to travel when she read about the class. "I have always wanted to go everywhere," she says. "I was very impressed that Witt gave me this opportunity so early."
"I knew I wanted to travel," added Katie Minter '12, "and Guatemala was especially intriguing because it is not the typical country you think of going to, which made it even more interesting."
For Proctor and McHugh, coffee was the perfect vehicle to explore a whole range of issues. And having students trace the journey of a coffee bean from distant places to the Starbucks or local coffee shop helped students see the "human face" behind their morning cup of joe. It wasn't long after coming up with the concept for the class that they hit on the idea of traveling to a coffee-producing country. What better way to really grasp the connections than to actually visit coffee farms, and meet coffee growers and producers? The two had already traveled to Guatemala and established the feasibility of such a trip. They then wrote a proposal that was eventually accepted as a pilot project for Wittenberg.
"There has been a surge in media coverage on issues around coffee, so it was a timely topic," Proctor says.
Both professors are excited to be part of a pilot at Wittenberg and, based on their experience, are even more convinced of the value of the relatively new idea of travel abroad for first-year students.
"It was exciting to see a shift in thinking in those who traveled – something definitely happened because of what they experienced," McHugh says. "Everyone who took the class in the fall recognized themselves as part of a larger global system. But the travelers saw with their own eyes exactly how the choices they make on a daily basis affect people in small communities around the world."
After nine days visiting Guatemala by van, truck bed, "tuk-tuk," boat and plane, the students also felt a lot closer to people they could once barely imagine. One of those individuals was Julio Cuy, the man who processed the coffee they drank all fall at Un Mundo Café in downtown Springfield. They had seen him in a mural painted on the café's wall, but they now stood in his very humble home, where he processed the coffee beside his hanging laundry.
"It was mind-blowing to see how people lived there," Minter says. "Actually talking to the farmers and seeing what we studied made it so much more real."
The extreme poverty was also shocking for most of the student participants. Minter recalls that the hardships were made clear when Julio explained that it had been difficult to clean the coffee because they had not had fresh water for two days. Such experiences are likely to stay with these students and have already influenced their decisions about issues large and small – from what kind of coffee they choose to drink to what academic path they choose.
"It is one thing to read about poverty in a book and another thing to see it," Parker Wright '12 says. "It was extremely humbling."
McHugh and Proctor saw this evolution of perspective as the trip went on, especially as the group gathered in the evening for reflection. This unstructured time to share thoughts on the day's experiences led to discussions of privilege, culture and other questions of life that sometimes lasted more than two hours.
"Those reflection times gave them the space to really talk about things that they would not have talked about otherwise," McHugh says.
While the eight students who spent their spring break in Guatemala enjoyed walking through lush rainforests, hiking up the side of a volcano and visiting spectacular Mayan ruins, they also gained much more than a travel experience. For most, it seems to have ignited a fire to do more and see more. And having this experience as freshmen gave many a heightened sense of purpose that might not otherwise have come so early in their college careers.
"I see how much I have compared to the people I met in Guatemala, and I want to give back," said Wright, whose interest in joining the Peace Corps post-college was solidified because of the trip.
Kortesoja and Minter echo Wright's enthusiasm for more travel and for making a difference. Barely home from Guatemala, Minter is getting ready to study conservation research in Costa Rica this summer. Kortesoja now says she has a better sense of where her true interests lie: "I want to know about the world and why people are the way they are."
The success of this trip has Proctor and McHugh hoping to do another trip next year, possibly with an added service component where the students stay and work on a farm.  Says Proctor, "There is nothing like seeing something for yourself to help you make a connection between learning and how you live."